Where are you from?
I grew up in a small town in southern Utah. Through the intervening years, I've lived in Michigan, Georgia and New Jersey. Living in different parts of the USA has helped me to appreciate the diversity in my own backyard. The USA has fantastic diversity at every level. You really appreciate that when living in a new region.
Where do you live now?
Shanghai, China.
What have you been doing since you graduated?
First, I worked as a designer and usability researcher for User Insight in Atlanta. Then I was a senior user experience consultant for a management consulting firm in New Jersey. Finally, I landed a job at Google in 2007 as a User Experience Researcher.
What is your current job? In 2 or 3 sentences, can you explain what your position is and what some of your responsibilities are?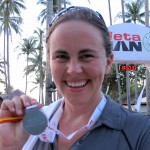 I'm currently a Staff User Experience Researcher at Google in Shanghai. I'm in the Ads and Commerce focus area, which means we help content publishers, merchants and advertisers find the right customers through ads and transactions using Google tools. I work closely with our UX Design colleagues to create wonderful user experiences for our business clients. Our problems are tough, constrained and fascinating. The confluence of design, technology, users and business creates some highly dynamic problem spaces. I've worked in Ads and Commerce since joining Google because I enjoy figuring out how to help users in these types of situations.
Can you tell us about a recent project you've worked on that you were really excited about?
Recently, I co-led a research project on small and medium businesses in Asia-Pacific. We wanted to understand more about their general user needs, current pain points and delighters. The findings have been incorporated into several plans and projects. It's exciting to see my work impacting tools for small business growth around the globe.
How do you think the program helped prepare you for your life after Georgia Tech?
For me it was probably the projects and team exercises – particularly the longer ones that made me focus on the work evolving over the semester. The majority of my work today is project based and collaborative, so that is the most directly applicable to my work.
Do you have any advice or words of wisdom you would like impart to current or future Digital Media students?
Follow your passion and choose projects that are meaningful to you. Choosing a project because other people think it's a good idea is a bad approach, because your energy and commitment are low. Choose projects that you care about and that you think are exciting and awesome, and you'll do well on the project and learn a lot!