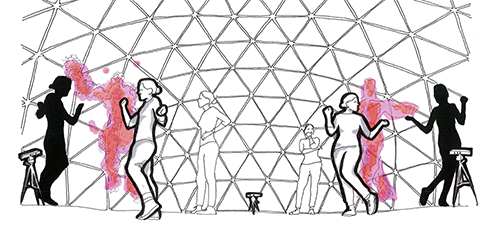 Post, a collaborative project between T. Lang Dance and the Adaptive Digital Media (ADAM) Lab, has been named a finalist in the 2016 Field Experiment grant competition that is hosted by The Goat Farm Arts Center & The Hambidge Center. Field Experiment 2016 aims to bring groundbreaking work to the surface with the following support: $20,000 commission, a residency, and collaborative production assistance to realize a prodigious vision for Atlanta.
The LuminAI installation developed in the ADAM Lab is DM MS student Jessica Anderson's thesis project. It is a new iteration of Viewpoints AI, which is an existing project in Dr. Brian Magerko's lab. VAI is an interactive dance installation that features an artificially intelligent anthropomorphic dancer that is projected onto a screen. It uses a Microsoft Kinect to sense (and learn) the human dancer's movements while the dancer's shadow and the virtual AI dancer are projected onto a large screen. By learning the dancer's movements and responding dynamically, the AI performer and human can create a shared movement experience through improvised interactions. Mikhail Jacob, the project lead, is a Ph.D. student in the College of Computing and has been leading development on this project for the past four years.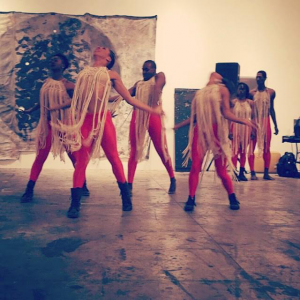 The concept behind LuminAI is to install three instances of the Viewpoints AI system inside of a geodesic dome to create a 3D shadow theatre space that can be used as both a performance technology and as a playful public installation space. Anderson is designing and constructing the installation with the support of the Goat Farm Arts Center; Jacob is the software lead, and Magerko is the faculty advisor for the project.
The ADAM Lab team is collaborating with T. Lang Dance to adapt LuminAI as the set design for the upcoming performance of Post. The fourth and final section of T. Lang Dance's Post Up series, Post is a contemporary dance performance centered on the experiences of America's Reconstruction era. Post engages the theme of reconciliation and its complexities, and the artificially intelligent virtual environment will be used to direct the gaze of Post into the future.
This project, along with the four other finalists, will be featured at the Hambidge 2016 Art Auction & Performance Gala at the Goat Farm Arts Center on April 23, 2016. The installation will be open to the public during evening gallery hours at the Goat Farm from April 25th through 30th.