On the weekend of September 25, Georgia Tech Alumnus Blacki Migliozzi competed in the International Genetically Engineered Machines Competition (iGEM) in Boston. Migliozzi was on a team representing a DIY lab called Genspace, and they took home a gold medal for the synthetic biology work they did in creating 11 new BioBrick parts and 2 new devices — all of which were contributed to the registry of standard biological parts for others to use. In addition to this, they also won an award for best community lab for the work they did centered around the Gowanus Canal.
There was another GT alum on the Genspace team: Dr. Crystal Gordan. Crystal (another bio-hobbyist) and Migliozzi were both surprised find out that they had both worked in TSRB around the same time on completely unrelated research.
The competition consisted of 280 teams from across the world consisting of many prestigious universities. This past year was the first time the iGEM competition had been opened to DIY biology labs as well as artists.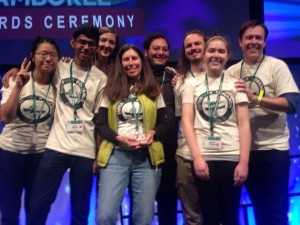 Migliozzi says that "this seriously was one of the biggest accomplishments of my life, and I have to give credit to my experience at GaTech. My HCI-DM Masters thesis was a bit abnormal in that it was centered around an obscure user group: bio-hobbyists growing mushrooms. My thesis led me, someone who had never even taking a biology class, to set up a DIY bio lab in TSRB. This experience also led me to seek out as much biology related research as I could. I was very lucky to get to work with (learn from) several groups around campus namely ArkFab, the Astrobiology group and Andy Quitmeyer's ant tracking lab. These years were formative for me in my continued love of biology."
Migliozzi stated further that he "hopes both the HCI and Digital Media departments continue to be as interdisciplinary as possible," and he encourages students to seek out research across campus.