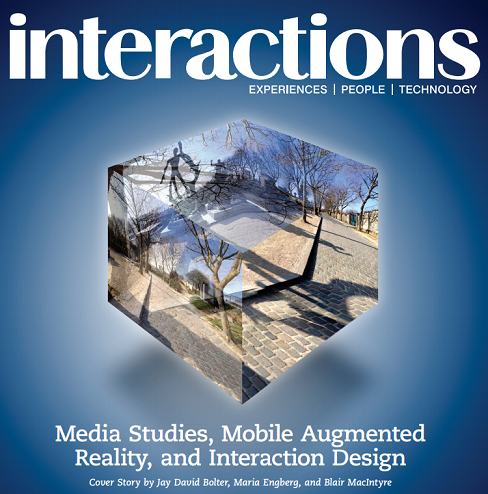 Digital Media professor Jay Bolter with colleagues Blair MacIntyre and Maria Engberg published "Media Studies, Mobile Augmented Reality, and Interaction Design" as the cover article for the January/February issue of Interactions. The journal is published by the Association for Computing Machinery (ACM), which is the largest educational and scientific computing society in the world.
This short excerpt introduces the goal set out in their article:
"Media studies looks at the history of media and their relationship to culture, and we will focus here on digital media and their relationship to other media, both present and past. Looking at digital media in a historical context is relevant because of the dynamic relationship between "traditional" media (film, television, radio, print) and their digital remediations. How can media studies be made to contribute to the productive work of interaction design? We believe one answer lies in using the historical understanding gained through media studies to develop a kind of media aesthetics that can guide designers as they explore new forms of digital media such as mobile augmented reality applications."
To read the article in full, please click here.