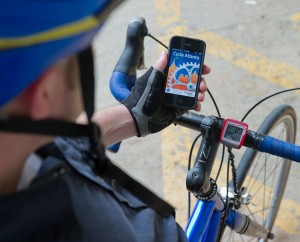 Digital Media assistant professor Chris Le Dantec and PhD student Mariam Asad teamed up with the City of Atlanta and the College of Engineering to create Cycle Atlanta, an app that tracks cyclists' routes around the city. These routes are uploaded to a database and used by Atlanta's city government to gather information on cyclists' routes and habits so that they can improve the city's bicycle routes.
"One of the main reasons people don't frequently cycle is a lack of safe infrastructure– dedicated bicycle routes, roads with bicycle lanes and other designated bicycle facilities," says Le Dantec. "The city has a desire to put proper infrastructure in place but needs better information from citizens about where they currently ride and would like to cycle."
Launched last month, the app currently already has hundreds of users and millions of datapoints. Le Dantec says that the development team is still working on additional features for the app, including allowing cyclists to designate certain points in routes as "red flags." These red flags indicate that there is something problematic at this spot, whether it's a signal that's not working properly or a storm grate positioned the wrong way so that it eats bicycle tires. This information will be invaluable to the City of Atlanta transportation planners who can be alerted to these problems directly by cyclists.
Cycle Atlanta exemplifies the Digital Media Program's involvement in civic media, using computational media to engage individuals of a community with each other. The app directly connects Atlanta cyclists with the city government creating civic engagement within the community, expediting communication between the two groups and thus producing constructive action to improve the city as a whole.
To download the app and for more information, please visit the app's homepage.