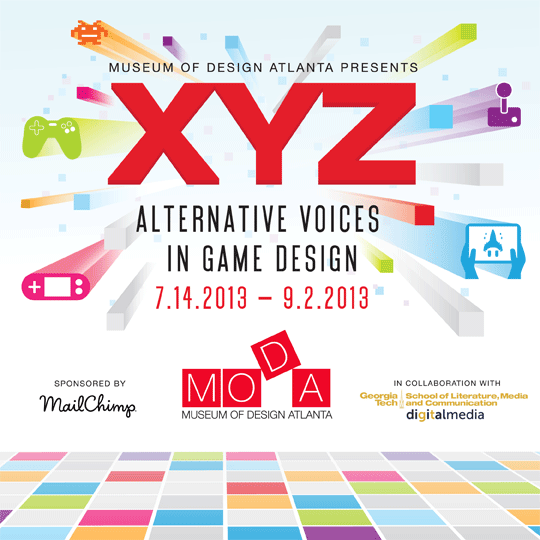 Celia Pearce and second year MS student Adam Rafinski curated, together with John Sharp, Cindy Poremba and Akira Thompson, an exhibit currently on display at the Museum of Design Atlanta called XYZ: Alternative Voices in Game Design. The exhibit, which closes September 1st, which highlights the work that women have produced as game designers.
According to the MODA website, "A response to the popular misconception that women neither play nor create video games, this interactive exhibition redefines viewers' perceptions of what games are and can be. XYZ introduces guests to alternative games that are outside the mainstream and demonstrates their capacity to convey a diverse range of ideas, experiences and emotions."
Adam Rafinski, who has had years of curatorial experience says, "I hope that the exhibition will open up new perspective on the issue of gender and game design. In my opinion, the gender question is often addressed from very a stereotypical perspective. I am proud that the exhibition will provide multiple perspectives on the question. I think it will on the one hand serve the purpose of generating more discussion about the subject and on the other provide access to a deeper conversation on what the seeds for gender related problems in the game industry actually are."
Rafinski helped to bring this exhibit to life by helping to conceptualize the show, selecting artists and developers, collecting their contributions, and running the Facebook campaign.
"I am very honored and pleased to participate in the process and to help shape this important political exhibition," he says, "from conceptualization to the actual realization and eventual iteration."
For more information about the exhibit, please visit the exhibit's MODA page.